<![if !vml]>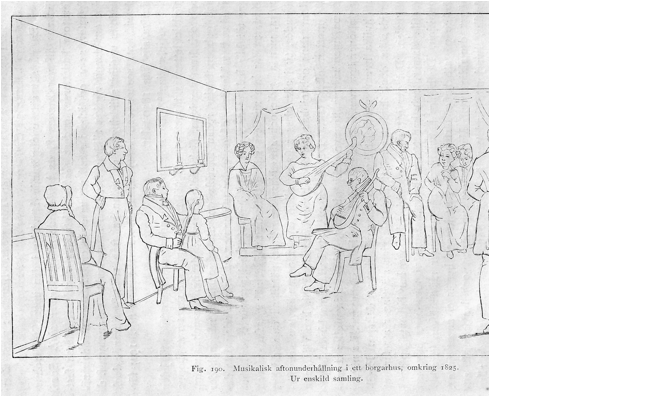 <![endif]>
"The Improved Cittern"
Printed and Manuscript Music




for the Swedish Lute




and

a List of Swedish Lutes
by
Kenneth Sparr
Stockholm, Sweden 1998



2019-01-26
Contents
This catalogue lists all known and preserved music for the Swedish lute and the "sittra", a unique Swedish musical instrument with its heyday c. 1780-1820. The purpose of this catalogue is to give an overview of the repertoire for the instrument, but the ambition is also that the catalogue should provide a tool both for the musician who wants to discover this seldom played music and for the researcher who wishes to throw more light on the popular music in Sweden in the late 18th and the early 19th centuries. It also provides a preliminary list of all known Swedish lutes and cisters. The research on the Swedish lute and its music has been rather limited in spite of the fact that the instrument is unique to Sweden. It is only Tobias Norlind, a pioneer in Swedish musicology, who has made research on the instrument. However, he had only knowledge about half of the sources listed in this catalogue and his conclusions must to some extent be revised.
The Swedish lute can be characterised as a bastard instrument with traces from both the cittern and the lute. Originally it probably developed from the cittern, through the English guitar. Instruments of the cittern family (zittra, sittra, cittra) were built in Sweden during the second part of the 18th century by Johan Öberg the elder (1727?-1779) in Stockholm and Carl Johan Broberg (?-1802) in Gothenburg. However, the most influential person in the development of the Swedish lute was the musical instrument maker of the royal court, Mathias Petter Kraft (1753-1807), born in Gävle, but active in Stockholm. Kraft made instruments of the cittern-family, as did Öberg and Broberg, but in Kraft's instruments you clearly can discern the development from cittern to Swedish lute. Kraft introduced a theorboed cittern and this arrangement was later transferred to the Swedish lute. Other important modifications was the change from metal to gut strings and that the rib fastener and the loose bridge was changed to a bridge glued onto the soundboard. On the cittern the strings were paired in courses, while they were single on the developed form of the Swedish lute. It is possible that we here may trace an influence from the guitar which in the late 18th and early 19th centuries changes from paired to single strings. Another possible influence is the angelica, the single-stringed archlute. The angelica differed only from the lute concerning the stringing: it had 16-17 single, diatonically tuned strings of gut. The angelica was used from the mid 17th to the mid 18th centuries and its connection with the Swedish lute seems however to be rather vague.
<![if !vml]>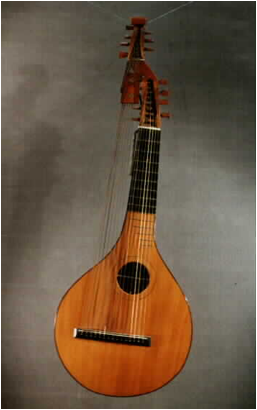 <![endif]>
Swedish lute by Lorents Mollenberg, No. 57, dated 1814.
From the collection of Nils Nilsson Fiolbyggare AB, Malmö, Sweden.
It follows closely the shape of Mathias Petter Kraft's lutes.
Another development of the Swedish lute was the gradual addition of bass strings. In the beginning the Swedish lute had a rather flat back, similar to the cittern, but the flat back was later replaced with a more vaulted one. Also the tuning came from the cittern. In its most developed form the Swedish lute was tuned from the lowest to the highest string in the following manner: A, B, c#, d, e, f#, g#, a, b, c#1, d1, e1, a1, c#2 and e2. In some pieces the tuning is different, but it seems as if the basic intervals were maintained. Many lutes had a simple capo tasto-arrangement whereby the pitch could be raised at least three semitones. The eight highest strings lie on the fingerboard, while the lowest seven lie off. Most of the lutes also were equipped with a brass thumb-lever attachment for changing the pitch of the bass strings a semitone. The Swedish lute had developed its standard tuning c. 1793-1794.
<![if !vml]>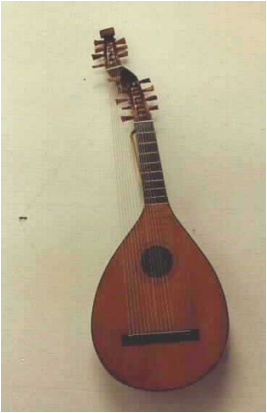 <![endif]>
Compared with the 1814 lute shown above a more developed
and beautiful shape can be found in Mollenberg's later lutes.
A lute by Lorents Mollenberg, No. 111, dated 1821, and in the author's collection.
At the end of the 1760s a distinction was made between the cittern and the lute, which is clear from the diary of Johan Gabriel Oxenstierna. On 19 October 1769 he wrote:
Since I listened to Olsson playing the cittern [cittra] this summer it occurred to me that I should learn to play it. Since I could not get any instruction from him I decided to learn to play the lute instead. With much effort I have found out that a court trumpeter Kuhlau in Stockholm is the only one who knows this instrument.
This Kuhlau is probably identical with Christian Ludvig Kuhlau (1733-1796). He performed with lute at several concerts in Stockholm 1768-1769, "to which also some of the other music is composed by him recently". The lute that Christian Ludvig Kuhlau played upon is most likely the baroque lute, which differs in many respects from the Swedish lute. The nephew of Christian Ludwig, Conrad Gottfrid Kuhlau (1762-1827), in 1793 issued his Tre Andanter med variationer utur J. Pleyels Quartetter, lämpade för Zittra och Violin [Three Andantes with Variations from the Quartets by J. Pleyel, Suitable for Cittern and Violin]. Later, and some time after the diary notes of Oxenstierna, in 1773, Abraham Abrahamsson Hülphers in his Historisk Afhandling om Musik och instrumenter [Historical Dissertation on Music and Musical Instruments] clearly distinguish between the cittern and the lute: "Larger and smaller citterns with steel and metal strings can be found with substantial changes from four to twelve 'Chor'-strings, which are played through plucking with the fingers". Hülphers also observes the terminological confusion between the harp, the cittern and the psaltery. In the Swedish music dictionary by Carl Magnus Envallsson, printed in 1802, the following description is given about the Swedish lute and the text also shed light on the change of terminology:
The improved Cittern, or the Swedish Sittra [Cittern], nowadays more used and so sought after abroad, and whose improvement is credited to the gentlemen ANKAR and KRAFT. It is supplied with gut strings and is similar to a Lute in its construction, but concerning its tuning more similar to the Cittern. In addition to eight strings on the fingerboard it has seven contrabasses fixed on a special extended neck, thus fifteen strings in total and which according to the tuning and the number of frets constitutes four octaves. It also has a flap by which you during playing the instrument can change every contrabass a semitone. - The greater perfection of this instrument and its construction, combined with a more pleasant sound is the reason nowadays for naming it Lute rather than Cittern.
Several records of the cittern in Sweden can be found from the end of the 18th century. An estate inventory after the mill owner Olof Svensson Hedengren (died in 1784) gives the following information:
The gentlefolk were very musical; there was a new, so called positive organ with 3 1/2 stops (organ), one pianoforte (!) and one clavichord [claver], one lute-cittern, one violin (signed Steiner) and four other Swedish [violins], among them a double-bass; a lot of sheet music...
From the festivity at the wedding of Christina Hedengren in 1787 the following ode can be quoted:
May also the pretty sound of the Clavichord
And the tender tunes of the Cittern
Sometimes refresh the soul, the mood
And dispel the sad moments.
The terminological change from cittern [sittra, zittra, cittra] to lute probably occurred c. 1800, but both terms were used also later for the same instrument. In a letter from Mrs. Wennerstjerna to Eva and Anna Myhrman in May 1802 is written that one is "playing on the cittern, clavichord, singing etc.". The term "cittern" was also used synonymously with the term "guitar". One example of this is a sonata by Johan Wikmanson where both terms are used.
The lute of Mathias Petter Kraft's design continued to develop after the death of the luthier in 1807. The changes were more of a qualitative than innovative nature. The foremost of Kraft's successor was perhaps his apprentice Lorents Mollenberg (1765?-1824) by whom many Swedish lutes are preserved. Other luthiers making Swedish lutes were Johan Jerner (1758?-1820), Pehr Lundborg, Carl Eric Sundberg (1771?-1846) and Anders Odendahl in Stockholm, J. Andersson in Skara, Erik Ryberg in Uddevalla, Hans Westerdahl in Lund, Anders Grönberg in Sveaborg, Finland, "the master carpenter and violin maker" Carl Petter Sundqvist (1803-1845) in Turku, Finland as well as A. Lindberg and Stenvik. There is information about Carl Eric Sundberg who made Harpor, Sittror och Gitarrer (harps, cisters and guitars), but also keyboard instruments. He finished as a musical instrument maker in 1833. Carl Petter Sundqvist was active in Turku 1831-1845.
A thorough research has been done by Berit Ozolins of the inventories from Gothenburg during the period 1690-1854.. From the 18th century the following notes are to be found:
- 1714 Johan Brun received a chitar and a cetrin?
- 1716 the former barber-surgeon at the admiralty Joh. Hindrich Kaldiners 1 citrinquen 3,, (1 citrinchen)
- 1731 the merchant Carl Söderberg en citrinque (1 citrinchen)
- 1752 the merchant Peter Ekman and his wife Johanna 1 zitriniken 2,, (1 citrinchen)
- 1754 Christopher Suhr - 1 zitra 12;, (1 cister)
- 1784 the wife of the corporal Joh. Hindr. Heins 1 zitra 12.- 1 d:o of_rdig 10.- (1 cister, 1 ditto unfinished)
- 1789 the merchant Joh. Gerh. von Ölcken 1 cittra -.32 (1 cister)
- 1793 the merchant Hans Törnvall 1 gammal zitra-.6 .- (1 old cister)
- 1798 the widow of the merchant N. Fr. Wahlberg en cittra i fodral 4.- (1 cister in a case)
- 1798 the principal Olof Wenngren 1 cittra utan strängar (1 cister without strings)
The dominance of cisterinstruments among plucked instruments during the 18th century in Gothenburg is obvious in the inventories and there also was a great import to Gothenburg of cisterstrings. Just to give an example: in 1651-1652 not less than 14 dozens of cisterstrings were imported.
The sittra (zittra, cittra) or Swedish lute is also found in the inventories (from Gothenburg at least as shown by Berit Ozolins in her dissertation) during the 19th century. Here is a list of notes in inventories with their values in riksdaler (rixdollar):
- 1800 the widow of sergeant And. Hallberg 1 cittra utan strängar 2.- (1 cister without strings)
- 1800 the town carpenter Fredr. Aug. Rex 1 cittra -.16 (1 cister)
- 1809 the wholesale merchant Bernh. Wohlfahrt 1 zittra 12.- (1 cister)
- 1829 the wholesale merchant Per Backman 1 större luta med fouteral 10.-, 1 mindre luta med fouteral, 1 guitarre (pantsatt) 50.- (1 bigger lute with case, 1 one smaller lute with case and 1 guitar pledged)
- 1831 the wife of the cantor at the Gustavi cathedral And. Wickström 1 lutha med fodral 1.16 (1 lute with case)
- 1834 the merchant Olof Melin and his wife Maria Soph. 1 zittra 3.16 (1 cister)
- 1842 the auditor at the Royal Göta Artillery E. J. Ståhle 1 cittra 1.16, 1 guitarr 6.32 (1 cister, 1 guitar)
- 1847 the widow of the farmer Joh. L. Osterman 1 zittra 1.- (1 cister)
- 1854 the town caretaker Joh. Ulrik Edman 1 cittra och en 1 violin utan strängar .16 (1 cister and 1 violin without strings)
<![if !vml]>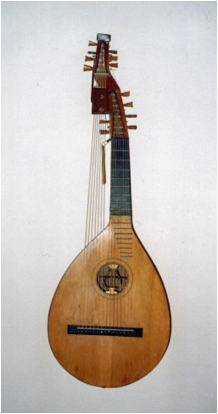 <![endif]>
<![if !vml]>
<![endif]>
A lute "Förferdigad af Johan Jerner Stockholm 1809" in the collection of the author.
The last built and known Swedish lute, by Lorents Mollenberg, dated 1821 and with the number 111 is in the author's collection. From the number of Swedish lutes preserved you may conclude that the production was fairly even during the period c. 1780-1820. After 1820 the production suddenly stopped. It is difficult to answer the question how large the total production of 15-stringed Swedish lutes could have been. The only safe basis for an estimation is the number of preserved instruments or other reliable sources with information. Many of the Swedish lutes were both dated and numbered. Tobias Norlind's assumption that you may draw conclusion from the numbering seems to be a bit hasty. Just to mention one example: Mathias Peter Kraft's instruments show an inconsistent numbering of all his instruments regardless of type (clavichords, fortepianos, lutes etc.). Norlind estimates from the numbering that Kraft altogether had made 750 citterns and Swedish lutes. We have more or less reliable information about c. 110 Swedish lutes. Barely the half of these are preserved in public collections which means that a relatively large number is in private hands.
One may of course speculate on the reason why this for Sweden unique type of instrument developed during the last decades of the 18th century. One possible explanation is the import prohibition on musical instruments which prevailed for 60 years, from 1756 until 1816. These restrictions may have stimulated a Swedish development, but also isolated Sweden from the musical production on the continent. Another example of a unique Swedish development is the Swedish clavichord and it may be a parallel to the Swedish lute. Concerning the use and distribution of the Swedish lute some hints can be given by the preserved instruments, the preserved music and contemporary sources. Stockholm is completely dominating both regarding instruments as well as music. However, lutes were also made in other Swedish towns: Skara, Lund och Gothenburg, but the production in these places seem to have been very limited. You may find advertisements in local newspapers as one in Upsala Tidning on 10 November 1819: "A lute in good standing, together with scales and easy music, is for sale for 20 R:d B:o". The same situation as with the lute manufacture applies to the preserved music: most of it seems to have been produced in Stockholm. It is however interesting to pay attention to the music for the lute and the lutes which is kept in Turku, Finland. According to the lists of damages from the big fire in Turku 1827 there were at least four citterns [zittror] and a lute in the homes of musicians and music lovers of the Musical Society in Turku. The musical connections between Turku (which at that time was a Swedish town in the province of Finland) were active during the Gustavian period.
We may assume that the Swedish lute primarily was used in music making in the homes even if it of course could have been used in concerts. One example of this is related below. Strangely enough there are extremely few contemporary pictures showing the Swedish lute used in a musical context. One of these is presented at the beginning of this catalogue.
<![if !vml]>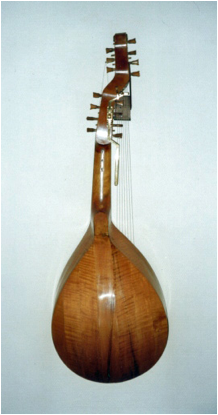 <![endif]>
It shows a musical evening entertainment in a bourgeoisie home c. 1825 and is a xylograph by Wilhelm F. Meyer (1844-1944), active as xylographer in Stockholm. It is reproduced on page 496 in Claes Lundin's and August Strindberg's book Gamla Stockholm (Stockholm, 1880-1882). The original drawing, now lost, was made by Johan Holmbergsson (1804-1835). Interestingly enough, there was detailed information on the back of the original drawing concerning the depicted persons. From left to right the following persons can be seen:
1 Fru [Mrs] Schyttner, 2 C[arl]. Oscar Strindberg, 3 Spegelfabr [mirror manufacturer] Thimm, 4 Thérèse Owen (Sasse), 5 Fru [Mrs] Francis Peylat (f. [born] Owen), 6 Fru Erika Sasse (f. [born] Schyttner), 7 Stadsmajor [leader of bourgeois militia] Z[acharias]. Strindberg, 8 Bruksp. [ironmaster] Samuel Owen, 9 Maria Julén (sed. [later] Gestrin), 10 Fredrique v. Konow, 11 Johan Holmbergson (artist; ritat denna tafla) [artist; has made this drawing] 12 Johan Ludvig Strindberg, 13 En ung [a young] Owen (Edmond?), 14 Fru [Mrs] Lisette Owen (f. [born] Strindberg).
In the background Erika Sasse is playing a lute (possibly a Swedish lute) accompanying Francis Peylat to the left. In front of her Zacharias Strindberg (August Strindberg's grandfather) is sitting holding a plucked instrument reminding of the older type of the Swedish lute.
Another and very interesting picture in the form of an anonymous family portrait has recently been offered for sale at an auction in Stockholm. This painting shows a clear depiction of a Swedish lute, probably by Matthias Peter Kraft, in the hands of a woman playing together with a female singer and a woman playing a square piano.
<![if !vml]>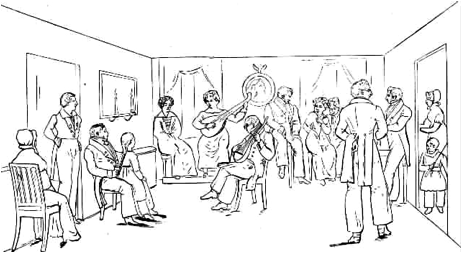 <![endif]>
The author has made a particular study (in Swedish) of this painting in Den svenska lutan i en anonym målning från 1800-talets början (The Swedish Lute in an Anonymous Painting from the Beginning of the 19th Century).
The music for the Swedish is rarely found in printed editions. A few examples are to be found in one of the oldest and most long lasting music periodicals of the world: Musikaliskt tidsf_rdrif [Musical Pastime], more exactly in the issues of the years 1789, 1790 and 1794. Printed music can also be found in a few separate editions as Samling af nyare valda S_ngstycken med Musique, printed in Stockholm in 1820 , but the music of the Swedish lute is mainly preserved in form of manuscripts. From the prices noted on some of these manuscripts you can conclude that they were produced for sale. It was not easy in these days to get music printed as the publisher Olof _hlstr_m had exclusive privileges to print music until 1818 when lithography was introduced in Sweden.
A diligent copyist was Johan Jacob Preusmark (1773-1828), violin-player in the court orchestra 1790-1828 and member of the order of fraternity, Par Bricole. Par Bricole was founded in 1779 and had its background in Carl Michael Bellman's parodical chapter of an order. Preusmark was accepted as a pupil at the opera household in 1790 and on the permament staff from 1804. He was enrolled at the royal household as a musician from 1812 and stayed there until his death in 1828. Furthermore he was librarian at the Musikmagasinet from 1816 until 1828 and secreterary at the änke- och pupillkassan [the fund for widows and children]. Preusmark's name is abound in the manuscripts and his neatly written hand is easily discernible. In many instances he has also noted the year, a fact that provides exact dating of the manuscripts. From his employment contract dated 1807 it is also clear that he copied music more professionally and the contract says: "I also pledge myself to the copying of music for the Royal Theatre whenever the Royal board of directors so tells me to the same price as Mr. G.Fr. Ficker receives". It also seems probable to believe that Preusmark's role was not only that of a copyist, but that he also is responsible for the arrangements and possibly also contributed with pieces of his own. Unlike Ankar (see below!) no lute is mentioned in Preusmark's estate inventory, only two violins, three bows in a case and various music. At the time of Preusmark's death, in 1828, the Swedish lute had fallen out of fashion and was replaced by the guitar.
An acquaintance and probably also a near friend to Preusmark was Johan Wilhelm Ankar (1759-1816). He was also violin-player in the court orchestra during a period (1778-1792). The friendship between Preusmark and Ankar is also expressed in Preusmark's commemoration speech in at the annual meeting of the änke- och pupillkassan [the fund for widows and children] on 31 December 1816. The aim of the änke- och pupillkassan was to support widows of and children after deceased members of the court orchestra. Ankar had in fact bequethed some of his property left as well as his music. Ankar is said to be the illegitimate child of Jacob Johan Anckarström, whose legitimate son, Johan Jacob Anckarström, assasinated king Gustav III in 1792. The Finno-Swedish lawyer and judge Per Jusleen lived in Stockholm at the time of the assasination and he describes the rumours concerning Anckarström having a half-brother, "N.B. du coté gauche", who was the best cittern-player in the city. Jusleen tells furthermore:
Han bor just midt emot mig och har en förl. Vinter varit hos mig med sin Cithra: han fölgde för flere år sedan till finland med en violist Grafström vid namn, och de gåfvo några concerter i Åbo på Acad. Salen. [He lives opposite to me and he has been at my place with his cittern last winter. Several years ago he followed a violin-player Grafström by name to Finland and they gave some concerts in Åbo (Turku) at the hall of the academy.]
Ankar and his other good friend Mathias Petter Kraft are very important figures in the history of the Swedish lute. They got to know each other in 1780, lived together for 27 years and have surely co-operated closely with the development of the lute. Ankar also composed music for the instrument and there is a little notice saying that the "hofmusicus" [court musician] Johan Wilhelm Ankar accompanied Mrs Marcadet on zittra at a concert in the great room of the House of the Nobility in Stockholm on 21 April 1782. The lady of the manor Årsta, Märta Helena Reenstierna, recalls the following musical entertainment on 11 November 1798:
We had dinner and supper there together with captain Rönngren and his sister, also a lieutenant Björnberg and a gentleman called Anker [Johan Wilhelm Ankar?]. The latter together with two of the young ladies Buckt entertained us with music on the clavichord [Clavér], violin and cittern [Zittra]...
Ankar's estate inventory shows his musical interests. In the inventory the following is listed: two lutes with cases, two ditto smaller. One violin with bow, one alto violin with bow, one case for violins, ten small music stands and one small wall chart with common musical instruments. The great number of music stands indicate that Ankar taught music in groups. From his will it is also clear that he had claims for tuition. In the estate inventory is also mentioned printed and manuscript music with reference to a now lost list as well as lute-strings. Ankar seems to have been a very disciplined person. When he feels that his death is drawing nearer he writes his detailed and precise will on 16 April 1816. He wishes to be buried, "without much expenses and quietly", in the same grave as his close friend Mathias Petter Kraft and two months later, on 17 June 1816, he died.
The Swedish composer Johan Wikmanson (1753-1800) has also written music for the instrument. In the Music Library of Sweden a sonata for Zittra solo by him is preserved in a not verified autograph. The estate of Wikmanson also contained a zittra, with the valuation two rix-dollars.
That the Swedish lute also was used outside the capital Stockholm is documented in a letter from Stina Hülphers (born Waern) to Knut Lilliebjörn dated 14 January 1808:
Dear Knut, we had summoned all the best in Västmanland for your reception, amateurs on violin, clavichord [Claver], lute. All had intoned the best they could, both ears and strings. Imagine what a disappointment it was for us to receive your last letter! Yes, Knut it was a real box on the ear.
Another example of this is Johan Gottfrid Zaar (1754-1818) about whom is told:
In Carlskrona Zaar resided until 1779 partly as an inkeeper and running billiards and partly as music instructor. Now and then he appeared as an actor at the theatre and also as performer on the violin and on the lute (Zittra).
Zaar also worked as cantor in Örebro 1800-1810.
The Swedish lute probably gradually disappeared during the 1820s. An important factor surely was the increasing importance of the guitar as a solo and accompaniment instrument. By the revocation in 1816 of the import prohibitions on musical instruments it suddenly became easy to get hold of foreign guitars. It is also documented that some lutes were altered so that they could be played as guitars. It was rather easy to do that alteration: take away the lowest nine strings, put new suitable strings on and you can use it as a guitar. The string length of the lute was just a fraction smaller than that of the contemporary guitar. An example of alteration is documented in the diary of Frans Anton Ewerlöf, which he wrote when working as private tutor at the Fösked mill in Värmland 1818-1820. He wrote the following when arriving to Fösked: "My wardrobe was limited to the absolute necessary, but the flute, the violin and the lute, transformed to a guitar, were brought too." The domestic production of guitars was very small during the first decades of the 19th century. In some of the Swedish lute manuscripts you can also find pieces for the guitar inserted. As was the case with the Swedish clavichord the lute surely was used after 1820. There are some references to this. On 10 September 1833 a musician by the name of Cedergren gave a concert in Gothenburg with the following program:
1) Theme with variations for the lute by Ankar. 2) Aria from La Dame blanche by Boildieu, for guitar, 3) The Tyrol Waltz for guitar with variations. 4) Barcaroles from the opera Maria by Herold, for lute, 5) Norrland, accompaniment for guitar, 6) The Romance Axel by Tegnér, for lute, 7) The Tyrol Waltz with variations by Ankar for lute, 8) Romance from Folke Birgersson by Dalayrac, for lute, 9) Recitative and aria from Tancred by Rossini for guitar, 10) La Sentinelle for lute, 11) Aria for lute by Hildebrand, 12) The Swiss longing for home for lute. Tickets at 1 rix-dollar.
A month later, on 23 November 1833, J.P. Cedergren from Stockholm gves a concert in Skien, an important trade town in Telemark, Norway. According to the advertisement the following program was performed:
Soirée for Song, Lute and Guitar with the following content:

First Part

1) Ouverturre de l'opera Calif de Bagdad; 2) Solo by Anker, for Lute; 3) Aria from the opera La dame blanche, the music by Boildieu; 4) La Sentinelle (Song); 5) Schweitzerens Hjemvee; 6) Recitative and Aria from the opera Tancred, for Guitarre by Rossini

Second Part

7) Ouverture de l'opera Lodoiska; 8) Aria from the L'esclave Persan, accompaniment with Luth; 9) Mathilde (Song) the music by Crusell; 10) Couplets from The new Garnison; 11) Aria from the opera Maria, the music by Herold; 12) Farewell song for lute, the music by Hildbrand (I'm grateful to Erik Stenstadvold whos supplied this information)
In some parts the program is the same as that performed in Gothenburg. It is interesting to note that Cedergren plays both guitar and lute. One may wonder whether the lute of this unknown musician had the ordinary tuning or was tuned like the guitar? In the latter case he would have been a predecessor, to the renaissance of the Swedish lute which Sven Scholander started in the late 19th century. Thus the Swedish lute was still used in the 1830s, but probably was uncommun. A clear indication of that is that Abraham Mankell in his musical handbook Harmonia printed 1833, almost completely ignores the lute but pay the guitar more attention.
From the catalogue one can see that music preserved for the Swedish lute is varied both concerning form as well as content. You may find music for solo lute, duos for two lutes, duos for lute, violin (an example: cover, lute part, violin part), flute or pianoforte, trios for lute, violin, violoncello and flute. Almost 47 percent of the c. 1100 preserved pieces consists of songs to lute accompaniment and more than 35 percent is solo pieces or duets for two lutes. Unlike what Norlind states the songs to lute accompaniment are clearly dominating. A peculiar thing about several of the songs to lute accompaniment is that there is parallel version for lute solo. The other music for the lute in ensemble constitutes a smaller part: lute and violin c. nine percent of the total repertory and lute and pianoforte c. six percent. The songs are often (c. 17 percent of the total) collected from the so called "Åhlström's song repertoire" contained in the periodical publication Musikaliskt tidsfördrif (mainly in the issues from the years 1791-1810) and in Skaldestycken satte i musik (particularly in the issues for the years 1793-1806), both published by Olof Åhlström. This span of time, 1790-1810, is not so evident when you look to the many arrangements from the operas of the time: it is much wider, from the 1770s until the 1830s. Many of the contemporary operas and other scenic works are represented and most frequent are songs from Le Calife de Bagdad by François Adrien Boieldieu (first performed in Sweden 1803), Aline, reine de Golconde by Henri Montan Berton (first performed in Sweden 1811), Natalia Narrischin by Johan Fredrik Grenser and Les visitandines by François Devienne (first performed in Sweden 1794). Not far from these come the Swedish operas Gustav Vasa (first performed in 1786) and Gustav Adolf (first performed 1788). The earliest dated manuscript is from 1808, but we may assume that several of the manuscripts are older than that. The latest dated is from 1837.
A common misconception is that the present so called Taube- or troubadour lute shows an unbroken development from the ancient Swedish lute. This is hardly the case. We have a break in the development from c. 1820 until c. 1890 when Sven Scholander (1860-1936) made the song to lute accompaniment to an almost international movement. Scholander's point of departure certainly was the old Swedish lute, but his remaking of the instrument was the beginning of a new tradition. C. 1880 Scholander equipped the lute with twelve strings, six of them on the fingerboard, and tuned it as a guitar. It is possible that he changed an old lute. In 1905, 25 years later Alfred Brock made his first lute with the new stringing. As he also restored instruments for the Music Museum in Stockholm we can be sure that he used the old Swedish lutes as his models. Many of the old lutes were modified to fit the new requirements: the old wooden tuning pegs were replaced with a modern tuning mechanism. In some instances the gut strings were replaced with metal strings and the tension raised considerably. A metal rod was often placed between the pegbox and the body as a reinforcement to prevent the neck from warping. Scholander's immense success as a singer to the lute has certainly contributed to the Wandervögel movement which grew particularly in Germany but also in Denmark during the first decades of the 20th century. In this movement the lute with a guitar tuning was indispensable.
This catalogue substantially enlarges Tobias Norlind's pioneering work on the Swedish lute. Many more manuscripts have been found (augmented with more than 60 percent) and documented. A more precise source description has been given. It seems likely that beyond the manuscripts catalogued here others may still be in private hands. The catalogue gives a rather detailed description of each source and it includes works for zittra, sittra and cittra, because of the terminological vagueness. In the catalogue you can find information about the library, shelve numbers, type of binding, watermarks, size, provenance when known, references and the musical content. To facilitate dating concordances in Musikaliskt tidsfördrif (abbreviation "MT") and Skaldestycken satte i musik [Poems Set to Music] (abbreviation "Sk") have been given. Other concordances have been given only if they have been evident. A more thorough search for concordances has not been done. Another resource for dating is the references in the catalogue about the first performances of operas in Sweden.
I'm grateful to Gunhild Karle, who has supplied me with much information, particularly about Preusmark and Ankar. I'm also grateful to Eva Helenius-Öberg who has provided information about Carl Eric Sundberg as well as Aki Arponen from the National Museum, Helsinki, who provided new information about Carl Petter Sundqvist. Finally I would like to thank Strindbergska släktföreningen (The Strindberg Family Association) for new information concerning the drawing by Johan Holmbregsson.
Andersson, O. Musikaliska förbindelser mellan Åbo och Stockholm under det gustavianska tidevarvet. Svensk tidskrift för musikforskning 9(1927), 99ff.
Auktionskatalog N:o 16 Förteckning över målningar, skulpturer, gobeliner, mattor och textilier, färggravyrer, möbler och konstmobilier, silver, bronser och pretiosa samt ostindisk och europeisk keramik, glas och kristaller ur generalkonsul Jean Jahnsson samlingar . Samlingen försäljes på auktion i Svensk-Franska konstgallerier, Arsenalsgatan 9 - Stockholm Torsdagen den 26, fredagen den 27 och lördagen den 28 oktober 1933.
[Andréasson, Rune] Matthias Petter Kraft. Ett 200-årsminne. Slöjd och ton 23 (1953), 40ff.
Berg, W. Bidrag till musikens historia i Göteborg. I. (Göteborg 1914), 171.
Bergman, L. Den svenska lutan och den svenske lutsångaren. Musikrevy (1980) nr 7, 314-317.
Bergman, L. "Så'na toner! Sådan takt". Evert Taube spelar på sin Brockluta. Evert Taube-sällskapet. Årsskrift (1991), 101-111.
Bergman, L. Sven Scholander. Sumlen (1977), 125-167.
Bergman, L. "Världs-luto-mästaren". Om Alfred Brock och Brocklutan. Evert Taube-sällskapet. Årsskrift (1991), 57-100.
Boivie, H. Några svenska lut- och fiolmakare under 1700-talet. Fataburen (1921), 51-73.
Brandel, R. Hågkomster och erinringar om Kraftska skolans stiftare, stiftelse och verksamhet. (Stockholm 1909).
Carlsson, C.A. Något om lutan. Slöjd och ton (1933), 17-18.
Dahlgren, F.A. Förteckning öfver svenska skådespel... (Stockholm 1866).
Dahlström, F. Instrumentariet i det gustavianska Åbo. Det gemensamma rikets musikskatter. Den gemensamma tonen. Red. av Hannu Apajalahti. (Helsingfors 1990), 33ff.
Eklund,R. UUB Imhs 20:13. A Contextual Study of a Lute Manuscript. Otryckt uppsats. Stockholms universitet, institutionen för musikvetenskap 1991.
Envallsson, C. Svenskt musikaliskt lexikon. (Stockholm 1802).
Hedwall. L. "En Öfwersigt af musiken inom Wermland". Bidrag till belysningen av det sena 1700-talets svenska musikliv. (Stockholm 1995), 63, 98, 101, 134.
Helenius-Öberg, E. Mathias Petter Kraft. Svenskt biografiskt lexikon 21. (Stockholm 1975-77), 522-523.
Helenius-Öberg, E. Svenskt instrumentmakeri 1720-1800. Svensk tidskrift för musikforskning 59:1 (1977), 5-43.
Hülphers, A.A. Historisk afhandling om musik och instrumenter... (Västerås 1773).
Jonsson, L. Offentlig musik i Uppsala 1747-1854. Från representativ till borgerlig konsert. (Stockholm 1998).
(
Karle, G. Några gustavianska hovkapellisters levnadshistoria. Unpublished dissertation. 1998.
Karle, G. Kungl. Hovkapellet i Stockholm och dess musiker 1772-1818. (Uppsala 2000).
Kinberg, A. Par Bricoles gustavianska period. (Stockholm 1903).
Kungliga Teatern. Repertoar 1773-1973. (Stockholm 1974).
[Musikmuseet] Den svenska lutan. [Utställningskatalog 25 oktober 1992 - 31 januari 1993].
Mörner, C.G.S. Johan Wikmanson und die Brüder Silverstolpe. (Stockholm 1952).
Nisser, C. Svensk instrumentalkomposition 1770-1830. (Stockholm 1943).
Norlind, T. Den svenska lutan. Svensk tidskrift för musikforskning 17(1935), 5-43.
Oxenstierna, J.G. Dagboksanteckningar. I. _r 1769. )Uppsala 1881), 55.
Ozolins, B. Musiknotiser I bouppteckningar åren 1690-1854. Arkivstudier inför en undersökning om Göteborgs musikhistoria. Uppsats för seminariet i musikvetenskap vid Göteborgs universitet, höstterminen 1970.
Reenstierna, M.H. Årstadagboken. Del I 1793-1812. (Stockholm 1946), 185.
Reenstierna, M.H. Årstadagboken. Del II 1813-1825. (Stockholm 1949), 323.
[Sjöstrand, Johan] Berömda lutbyggare i det gamla Stockholm. Slöjd och ton (1931), 18-22, 49-51 and (1945), 37-41.
Sjöström Carl, Blekingska nationen 1697-1900 : biografiska och genealogiska anteckningar jemte historik (Lund 1901), 205
Sparr, K. Remarks on an Unnoticed Seventeenth-Century French Lute in Sweden, the Swedish Lute (Svenskluta or Swedish Theorbo) and Conversions of Swedish Lutes. Galpin Society Journal LXII (April 2009), 209-234.
Tegen, M. Den Åhlströmska sångrepertoaren 1789-1810. Svensk tidskrift för musikforskning 65(1983), 69-107.
Vretblad, P. Konsertlivet i Stockholm under 1700-talet. (Stockholm 1918), 217
Wells, Elizabeth & Nobbs, Christopher. European Stringed Instruments. Royal College of Music Museum of Instruments. Catalogue. Part III. (London 2007).
Wiberg, A. Olof Åhlströms musiktryckeri, Svensk tidskrift för musikforskning 31(1949), 120.
Åkerberg, E. Musiklifvet inom Par Bricole 1779-1890. (Stockholm 1910).
Stiftelsen Musikkulturens Främjande
© Kenneth Sparr